Top Reasons Why People Buy Mobile Homes
Mobile homes in Austin are increasingly becoming an attractive housing option for many individuals, couples, families, and investors. Whether you're looking for a significant investment or looking for an affordable way to own your own home, mobile homes have been around for decades and provide a unique solution for those who need space but want to avoid the high maintenance costs associated with traditional brick-and-mortar houses.
Deciding to buy a mobile home in Austin is an exciting step for many people. And, moving into a mobile home can allow you to live in an area that would've been impossible with your budget otherwise. These homes offer several advantages over site-built homes, including affordability, low maintenance, more house for your money, and a many of mortgage options. In this article, we'll explore what makes mobile homes such an attractive choice for many people and provide valuable information to help you make the best decision.
Mobile homes offer an affordable housing option compared to traditional site-built homes, making them a viable choice for many individuals such as young couples, large families, retirees, and investors.
Because Mobile homes are customizable homeowners can personalize their living space according to their preferences and needs.
These homes often have lower expenses, including sometimes a benefit on property taxes, maintenance and repair costs, and energy and utility bills.
A sense of community in mobile home parks provides residents a social and supportive environment.
Affordability
Low Maintenance
Customization and Personalization
Investment and Equity
One of the primary reasons why people buy mobile homes is affordability. You generally get more land and home with a mobile home in comparison to traditional site-built homes, making them an attractive option for individuals and families on a budget. When it comes to reasons why people are choosing mobile homes today, affordability tops the list. With the increasing cost of land and construction materials, mobile homes provide a practical solution for those looking to become homeowners without breaking the bank. Mobile homes can be significantly more affordable for the square footage your getting than traditional site-built houses.
Affordable 4 Bedroom Mobile Homes Austin:
You can find beautiful 4 bedroom mobile homes Austin between $110,000 to $178,000, home only without the land which is significantly less than the cost of site-built homes in Austin. This difference in pricing highlights the affordability of mobile homes in the Austin area.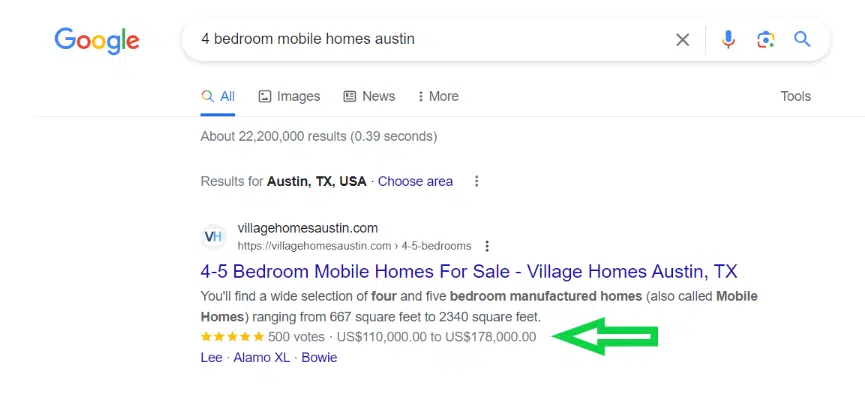 The second advantage of buying a mobile home is low maintenance. Mobile homes typically require less maintenance than traditional site-built homes, making them ideal for people who don't have the time or resources for constant upkeep. With a mobile home, you'll spend less time and money on repairs and maintenance to focus on other things like your family.
Manufactured houses are designed with durability and cost-effectiveness in mind. They often utilize building materials that are easy to maintain. Additionally, modern mobile homes are built to meet strict safety standards set by the Department of Housing and Urban Development (HUD). This means owners can enjoy peace of mind knowing that their home is built to last and won't require expensive repairs or maintenance.
Client Spotlight
: Finding Home Happiness with
Village Homes Austin:
One of our clients chose Village Homes to buy their first Mobile Home in Austin. This hard-working couple with three young children had been renting an apartment for years but were looking for a way to own a home on a modest income. They discovered that Village Homes Austin offered an affordable solution for growing families. Not only could they purchase a spacious home within their budget, but they also benefited from the low maintenance requirements. Rather than spending their weekends on home repairs and maintenance, they found they had more time for family activities and relaxation.
Moreover, knowing their mobile home was built to HUD's strict safety standards gave them peace of mind. This is just one example of how families can greatly benefit from the affordability and low maintenance. Village Homes Austin represents Eight Different Manufacturers/Builders, who all build to the HUD safety standards, so you have more variety.
3. Customization and Personalization
The third advantage of mobile homes is the ability to customize your living space. Mobile homes offer a unique opportunity for customization and personalization, allowing individuals and families to create a space that truly reflects their style and preferences. With a wide range of floor plans and customization options like flooring, paint, etc, mobile home owners can design their dream homes. From open-concept kitchens and spacious living areas to luxurious bathrooms and cozy bedrooms to 3 bedroom mobile homes and 4 bedroom mobile homes offer versatility in living spaces.
Whether someone requires extra storage space, a home office or play room, or accommodations for accessibility, mobile homes can be tailored to provide the necessary features and functionality.
Designing Outdoor Spaces
 for 
Mobile Homes:
Furthermore, the ability to personalize a mobile home extends beyond the interior design. With outdoor living becoming increasingly popular, mobile home owners can use the available outdoor space. From creating a beautiful garden or patio area to adding a deck or porch for outdoor entertaining, the options for creating an inviting outdoor oasis are limitless.
For example, you purchase a 3 bedroom mobile home austin; you decide to convert one of the bedrooms into a home office, install built-in shelving for extra storage in the living room and upgrade the kitchen with state-of-the-art appliances. Outside, you create a luxurious entertaining area with a spacious deck, comfortable seating, and a built-in barbecue. You surrounded the deck with a blossoming garden which adds color and life to your outdoor space.
The fourth advantage of mobile homes is investment and equity, two essential factors to consider when choosing a mobile home. These homes offer the opportunity to build equity, just like traditional site-built homes. You can build wealth and increase your net worth over time by owning a mobile home and land package.
As you pay off the mortgage on your mobile home, you are gradually building equity. This means that the value of your home and land investment increases over time. This equity can be used for various purposes, such as accessing lines of credit or financing other projects.
Manufactured homes can also provide rental income opportunities. If you decide to rent out your home, you can generate a steady stream of income, further enhancing your investment potential.
It's important to note that the equity and investment potential of Manufactured Homes can vary depending on factors such as location, market conditions, and the property's overall condition.
What is a mobile home?
A mobile home is an older name for a manufactured home which is a type of housing built in a factory and then transported to the desired location. They are called "mobile" because they were initially designed to be easily moved, though today many are permanently installed in a location.
Tell Me About The Manufactured Home Safety standards?
Manufactured homes are built with safety as a top priority and adhere to rigorous standards set in 1980 by the U.S. Department of Housing and Urban Development (HUD). These regulations encompass various safety measures to ensure manufactured homes are safe and suitable for living. These measures include:
Fire Resistance:

 Manufactured homes (formerly called mobile homes) are designed with fire-resistant features.

Wind Safety:

 After the devastating Hurricane Andrew in 1992, the U.S. federal government updated wind safety standards for manufactured housing in 1994. These updates established three HUD wind zones based on the home's location. Homes placed in Wind Zones II and III have specific building requirements, including revised foundation specifications and wall framing that allow for the installation of hurricane shutters.

Thermal Protection:

 Manufactured homes are designed to provide thermal protection, ensuring comfort and energy efficiency.
These safety standards have significantly improved the resilience of manufactured homes, making them better equipped to withstand severe weather conditions, including hurricanes. Manufactured homes are a safe and reliable housing option.
Are Manufactured Homes a good alternative to site-built houses?
Manufactured homes are often more affordable than traditional housing because they typically have lower construction costs because they're built in stable environments and the building process is conducive to economies of scale making them more efficient to build. They can be a good alternative for those seeking budget-friendly housing options.
Is living in a Manufactured home comparable to living in an apartment?
Living in a mobile home is totally different to living in an apartment in terms of space and amenities. Manufactured houses offer more independence and the opportunity to have a yard or garden, which apartments may lack. Also, you own your manufactured home and sometimes the land. You don't own your apartment.
How do people sell a Manufactured home without land?
These homes can be sold separately from the land they are on. Sellers often find buyers interested in moving the mobile home to a different location which affords a lot more flexibility than a site built home.