No dealer in Central Texas represents more manufacturers than Village Homes in Mustang Ridge, Texas!
Choose From Eight Different Manufacturers
Village Homes is a retailer for the EIGHT manufactured/mobile home builders such as: Redman Homes, Athens, Oak Creek Homes, Fleetwood, Cavco, Skyline, Jessup, Clayton and Champion.
Locally Owned and Operated, Village Homes has the widest selection of 1, 2, 3, 4 and 5 bedroom manufactured/mobile homes in the Austin Metro area. Village Homes was voted best retailer in Central Texas for three years, provides full and complete services including land, home, "land and home packages", services to move your home (only for customers), installation, setup, and qualified repairs.
If you buy a manufactured/mobile home, you need land for your new home. It only seems natural that a mobile home dealer also offers on-site realtors to help with that need. No other mobile home dealer in Central Texas has two full-time realtors on location to completely fulfill your home buying needs.
We believe your time is important and every minute counts. By providing One Stop Shopping, we aim to make the process as trouble free and easy as possible for you and your family!
For over 60 years, Village Homes has been helping people like you obtain the American Dream of home ownership.
Village Homes delivers and services homes within a 100-mile radius of Austin; as far north as Killeen, as far west as Marble Falls, as far east as Brenham, and as far south as San Antonio, Texas.
Read about the benefits of home ownership and why owning a home will make your happier!
Locally Owned and Operated
Village Homes, a manufactured/mobile home dealer, has been locally owned and operated for 60 years by Don Dempsey and David Buchanan so you can feel comfortable that you will get excellent customer service.
They're at the business almost every day to answer questions you might have. 
And that's why, "THE BUCK STOPS HERE" because you can go directly to the owner of the business with questions or complaints. Most other dealers in Central Texas are owned by big out-of-state corporations.
Every mobile home will need land improvements such as: a foundation, septic, water, electric, and aesthetically pleasing add-on's like, decks, porches, skirting, and more to provide the finishing touches to your dream home.
We can bundle any necessary land improvements, with land and home for one complete package making the home buying process easy with "Village Homes" in Mustang Ridge, Texas.
Exceptional service very courteous didn't push anything upon us very pleased with customer service.




Great customer service... David is awesome they all are.. Welcomes everyone with a smile...If you are ready for a home with land I do recommend this place.


I had almost given up on my quest for a home…Luckily one of the realtors that had been working with me…saw my struggle and told me to check with Village Homes…I am so glad I did!
What You Need To Know About Buying a Home
Buy a Mobile Home from a trusted dealer and manufacturer, like Village Homes in Mustang Ridge, located near the Austin Metro Area.  Following are the key points that will guide you how to buy a mobile home from the trusted dealer or manufacturer.
Uncle Sam gives you a tax deduction every year on your taxes Uncle Sam offers tax write offs when buying a home and may even
Once you've picked out your perfect new mobile/manufactured home from Village Homes near Austin, Texas, you may be wondering exactly where you'd like to move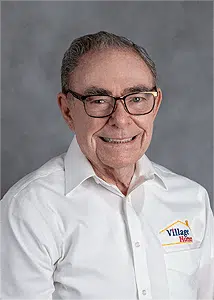 More than 60 years ago, when Donald Dempsey founded Aus-Tex, LLC, DBA Village Homes, in 1958, he started building site-built homes in West Lake Hills, off Cuernavaca Rd. He soon realized, that site-built homes only satisfied a small group of people.
His vision for the company morphed into a place where everyone could obtain the dream of home ownership. That meant housing in Austin, Texas had to be affordable. His solution, Manufactured Housing.
He believes he can help a lot more families by providing quality homes that are already built, making it faster for families to obtain their dreams!
Donald Dempsey, founder of Village Homes, is making Austin a better place, one home at a time.
Chamber of Commerce Memberships